Interzoid Advanced Company Name Matching Now Available on AWS Marketplace
---
Posted on December 1st, 2020
---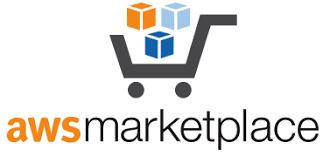 ---
Interzoid's Advanced Company Name Matching API is now available for use on AWS Marketplace and as part of AWS unified billing. This API provides an algorithmically-generated company/organization name similarity key utilizing Machine Learning/AI and other heuristic algorithms. These keys, when sorted or matched, enable similar company names to be clustered together for the purposes of identifying inconsistent data, improving analytics, business intelligence, business processes, data science, CRM, and other data-centric disciplines. This REST-based API takes a company/organization query string and returns the results in JSON for easy, standardized integration into Web sites, applications, and business processes. In addition, we have database connectivity tools available to enable you to generate on-the-fly match reports with this API using ODBC and native database connectivity directly to your database or application - no coding necessary.
There are many examples of data quality challenges for an organization to overcome. One is the difficulty of dealing with inconsistent company/organizational name data, such as the following:
IBM, International Business Machines, ibm, I.B.M.
Forever 21, Forever Twenty-one, forever21
G.E., General Electric, Gen Electric
Johnson & More, Johnston and Moore Attys at Law
Apple, The Apple Store, Apple Corp USA
San Jose Memorial Hospital, Med Center of San Jose (Mem Hospital)


Inconsistent company/organization names like these in your databases can cause significant problems, such as:
- duplicate company records
- data and contacts spread across multiple records
- inaccurate data analysis
- difficult to match across data sources
- faulty-decision making
- increased data management costs
- inefficient business processes
- missed opportunities
Interzoid has created a similarity key generation capability that greatly simplifies and can even solve these challenging data issues.
Our API generates a similarity key from a company/organization name that is algorithmically designed to eliminate the inconsistency in the data content. Here are some examples of generated similarity keys: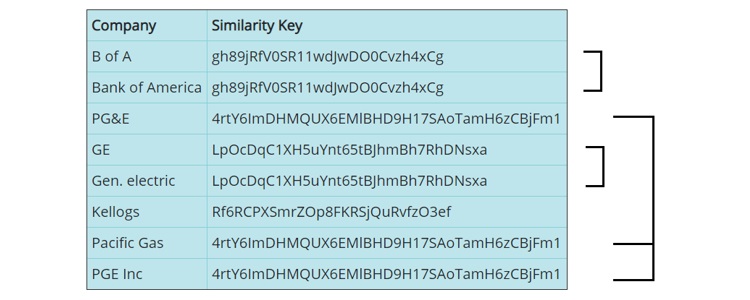 You can utilize different matching algorithms when generating similarity keys. For example, a "wide" key generation algorithm casts a wider net of possible matches for a given organizational name. The tradeoff here is an increase in the possibility of false positive matches where organizational names are similar. The "narrow" algorithm tightens the match requirements for two entities to generate the same similarity key. However, because of these tighter requirements, some matches could be missed. Of course "medium" is somewhere in the middle. So depending on your organization's requirements and business case, there are tradeoffs to consider.
Once similarity keys are generated for each organization in the target data source, data can be matched or sorted using these similarity keys rather than the data itself, resulting in dramatically higher match rates and identification of duplicate company names.
Using Interzoid's Company Name Match API, you can:
✔ Eliminate redundant and duplicate data from customer and important databases
✔ Leverage data content-specific matching algorithms for higher matching success rates
✔ Utilize Machine Learning capabilities for increased matching results
✔ Improve the accuracy of data analysis activities with better, more accurate foundational data
✔ Be more cost-effective with customer communications and marketing campaigns
✔ Utilize fuzzy matching to match company data across datasets
✔ Enable fuzzy searching for better, more comprehensive search results
✔ Achieve greater ROI with business intelligence investments
✔ Leverage growing AI-based knowledge bases of matching and ambiguous data identification
✔ Reduce costs associated with redundant, duplicate data
✔ API-based solution enables full customization of data matching strategies
✔ Similarity keys easily are leveraged within a broad range of applications
✔ Easy to get up-and-running with immediate results
✔ Pay-as-you-go pricing makes it easy to get started

Database and Application Seamless Integration:
Database and application connectivity tools are available to enable you to generate on-the-fly match reports with this API using ODBC and native database connectivity directly to your database or application - no coding necessary.
A sample such match report can be viewed here.
Sample databases supported:
dBase
Foxpro
IBM Db2 Database
IBM Informix
Microsoft Azure SQL Database
Microsoft SQL Server
MySQL (including within AWS RDS)
Oracle Database
Pervasive SQL (Btrieve)
Pivotal Greenplum
PostgreSQL (including within AWS RDS)
SAP Sybase ASE
SAP Sybase IQ
Teradata
Text Files

Sample SAAS applications supported
IBM Db2 Hosted
Oracle Database Cloud Service
Oracle Eloqua
Oracle CX Service (formerly Service Cloud)
Salesforce
Veeva CRM

Sample Cloud Data Warehouses supported
Amazon Redshift
Google BigQuery
Microsoft Azure Synapse Analytics (formerly Microsoft Azure SQL Data Warehouse)
Oracle Autonomous Data Warehouse Cloud
Snowflake

Sample Back Office applications supported
Microsoft Dynamics 365
SAP S/4HANA Cloud
FinancialForce

Sample Matches Found Using Similarity Keys:
IBM
International Business Machines
i.b.m. corp

U-Haul
Uhaul Trailers

Costco Stores
cost-co

McKeson Corp
Mackesson
The Mckesson company

Florida St
Florida State University
FSU

Well's Fargo Bank
Wells Fargo

Nationwide Insurance
Nation Wide Ins.

PFIZER INC
Fizer

Forever 21 Inc.
FOREVER TWENTY-ONE

Biogen Pharma
The Biogen Corp

Apple
apple computer
apple comp
APPLE MOBILE
Apple International
apple inc
apple inc.
Apple Stores
THE APPLE STORE
Apple Corp
Apple USA

7-11
7-eleven
Seven Eleven Stores
Seven 11 Inc.

Hilten Hotels
HiltonHotels
Hillton Resorts Inc.

Arctic Flooring Inc
Artic Floors

USX Corp
United Steel

Plain Dealer
Cleveland Plain Dealer
cleve Plain Dealer
Cleaveland Plane Dealer

Amazon
AMZN
amazon.com
Amazon Marketplace
Amzn Marketplace US
amazon, inc.

Glaxo Smith Klein
GSK Pharmaceuticals

San Deigo Chemical
SD Chem
San Diego Chemical Corp

10k investments
Ten K Investment

Jackson Wines
Jaxon Winery Inc.

5 Penn Plaza Inc.
Five Pennsylvania Plaza

Cranston Inc.
The Cransten Corp
Cranstin Company

Hilton Hotels
Hillton Resorts Inc.

Perez Telecommunications Inc
peres telcom

Mary's Cookies
Marys Cookie Shop

High Top Brewing
Hightop Breweries

The Johnson Rehab Center
Johnsen Rehabilitation

JP Morgan
JP Morgan Chase
JPMorgan Chase

Midland Loan Services
Mid-land Savings & Loan
Midland Banking Svcs

Equity Real Estate Investments
$Equity Realtors

NBA
National Basketball Association
National Basketball Assoc. (NBA)

Saint Francis Mem (main)
St. Francis Memorial Hospital