Examples of Catching Duplicate, Inconsistent Company Name Data with an API
---
Posted on January 14th, 2020
---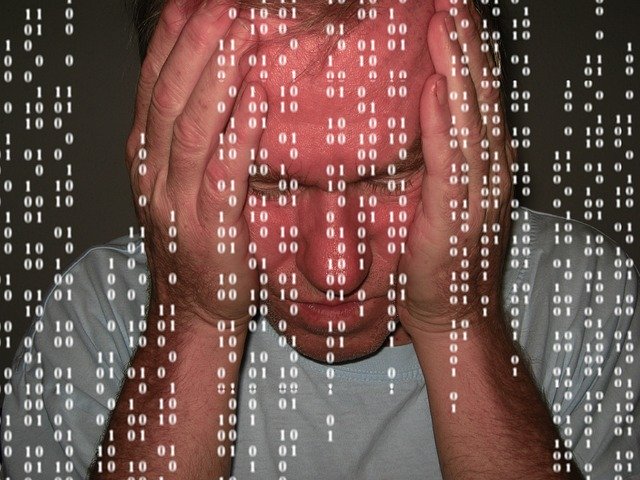 ---
No great companies were ever built on a foundation of bad data assets. And since we have very little control over how customer, prospect, or other textual data is collected at its source, there is a good chance you are working within an organization on such a foundation where data quality could be significantly improved.
There are many examples of data quality challenges for an organization to overcome. One, our focus here, is the difficulty of dealing with inconsistent company/organizational name data, such as the following:
IBM, International Business Machines, ibm, I.B.M.
Forever 21, Forever Twenty-one, forever21
G.E., General Electric, Gen Electric
Johnson & More, Johnston and Moore Attys at Law
San Jose Memorial Hospital, Med Center of San Jose (Mem Hospital)


Inconsistent company/organization names like these in your databases can cause significant problems, such as:
- duplicate company records
- data and contacts spread across multiple records
- inaccurate data analysis
- difficult to match across data sources
- faulty-decision making
- increased data management costs
- inefficient business processes
- missed opportunities
Interzoid has created a similarity key generation capability that greatly simplifies and can even solve these challenging data issues.
Our API generates a similarity key from a company name that is algorithmically designed to eliminate the inconsistency in the data content. Here are some examples of generated similarity keys: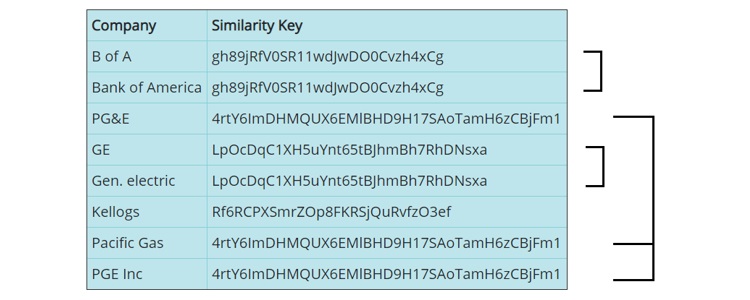 Then, data can be matched or sorted using these similarity keys rather than the data itself, resulting in dramatically higher match rates and identification of duplicate company names.
Using Interzoid's Company Name Match API, you can:
✔ Eliminate redundant and duplicate data from customer and important databases
✔ Leverage data content-specific matching algorithms for higher matching success rates
✔ Improve the accuracy of data analysis activities with better, more accurate foundational data
✔ Be more cost-effective with customer communications and marketing campaigns
✔ Utilize fuzzy matching to match company data across datasets
✔ Enable fuzzy searching for better, more comprehensive search results
✔ Achieve greater ROI with business intelligence investments
✔ Leverage growing AI-based knowledge bases of matching and ambiguous data identification
✔ Reduce costs associated with redundant, duplicate data
✔ API-based solution enables full customization of data matching strategies
✔ Similarity keys easily are leveraged within a broad range of applications
✔ Easy to get up-and-running with immediate results
✔ Pay-as-you-go pricing makes it easy to get started

Sign up for an Interzoid account and you will receive automatic trial credits to take the API for a test drive.
Sample Matches Found Using Similarity Keys:
U-Haul
Uhaul Trailers

Costco Stores
cost-co

McKeson Corp
Mackesson

San Jose Hospital
Regional Medical Center of San Jose
san jose med ctr

Well's Fargo Bank
Wells Fargo

Nationwide Insurance
Nation Wide Ins.

PFIZER INC
Fizer

Forever 21 Inc.
FOREVER TWENTY-ONE

Biogen Pharma
The Biogen Corp

7-11
7-eleven
Seven Eleven Stores

Arctic Flooring Inc
Artic Floors

USX Corp
United Steel

Glaxo Smith Klein
GSK Pharmaceuticals

San Deigo Chemical
SD Chem
San Diego Chemical Corp

10k investments
Ten K Investment

Jackson Wines
Jaxon Winery Inc.

5 Penn Plaza Inc.
Five Pennsylvania Plaza

Cranston Inc.
The Cransten Corp
Cranstin Company

Hilton Hotels
Hillton Resorts Inc.

Perez Telecommunications Inc
peres telcom

Mary's Cookies
Marys Cookie Shop

High Top Brewing
Hightop Breweries

The Johnson Rehab Center
Johnsen Rehabilitation

Midland Loan Services
Mid-land Savings & Loan
Midland Banking Svcs

Equity Real Estate Investments
$Equity Realtors

Saint Francis Mem (main)
St. Francis Memorial Hospital