Examples of Individual Name Matches Likely Within Your Data
---
Posted on January 21st, 2020
---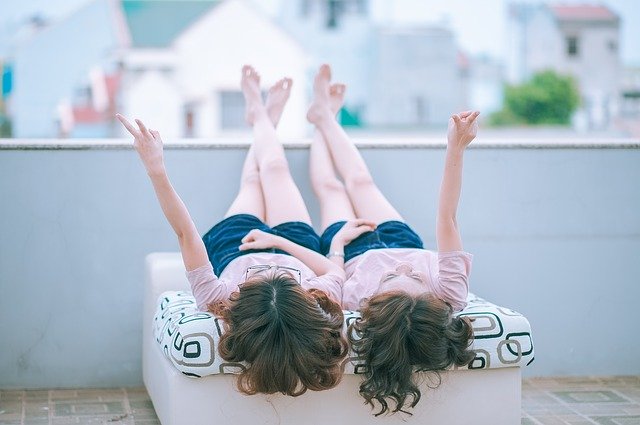 ---
Duplicate customer data involving individuals is usually caused by spelling variations, nicknames, data inconsistency, typos, and free-form data sources. This can cause the same individual to make multiple appearances at different places within corporate data assets and usually as different people, with relevant data fragmented across these records.
While difficult to prevent as data is being collected, a data quality issue like this can wreak havoc on data analysis, segmented marketing campaigns, decision-making, organizational efficiency, and comprehensive data management. And that's just within one database. Trying to combine databases with these kinds of challenges for purposes of developing business intelligence can make the issue often seem like an insurmountable obstacle.
Example:
Jim Johnson
Mr James P Johnston
JAMES JOHNSON Jr
Jimmy Jonsen


While clearly these may not be the same people, the odds that they are dramatically increase when matched with other data such as phone number, birthdate, an address, or a company name (using Interzoid company matching here as well would be useful).
Interzoid has created a similarity key generation capability that greatly simplifies and can even solve these challenging data issues.
Our API generates a similarity key from an individual's name that is algorithmically designed to eliminate the variations in the data content. Here are some examples of generated similarity keys: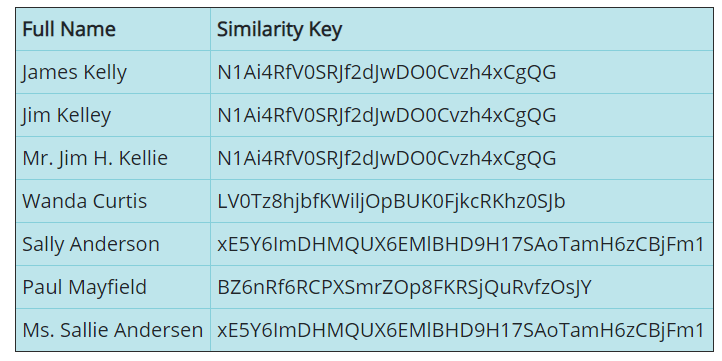 Then, data can be matched or sorted using these similarity keys rather than the data itself, resulting in dramatically higher match rates and identification of duplicate individual names.
Using Interzoid's Full Name Match API, you can:
✔ Eliminate redundant and duplicate data from customer and important databases
✔ Leverage data content-specific matching algorithms for higher matching success rates
✔ Improve the accuracy of data analysis activities with better, more accurate foundational data
✔ Be more cost-effective with customer communications and marketing campaigns
✔ Utilize fuzzy matching to match company data across datasets
✔ Enable fuzzy searching for better, more comprehensive search results
✔ Achieve greater ROI with business intelligence investments
✔ Leverage growing AI-based knowledge bases of matching and ambiguous data identification
✔ Reduce costs associated with redundant, duplicate data
✔ API-based solution enables full customization of data matching strategies
✔ Similarity keys easily are leveraged within a broad range of applications
✔ Easy to get up-and-running with immediate results
✔ Pay-as-you-go pricing makes it easy to get started

Sign up for an Interzoid account and you will receive automatic trial credits to take the API for a test drive.
Sample Matches Found Using Similarity Keys:

Bill Clinton
William J. Clinton

Dr Fred Johnston
Frederick P Johnson

Sallie Harrell
Sally Harrel

Jim Donaven
James Donovan

Gavin McMillan
Gaven P. MacMillen III

Elizabeth Donnelly
Lisabeth Donley

Bob Ford
Robert Forde

Frank Menendez
Mr. Franklin Menendes

Lori Greenberg
Ms Laura J Greenburgh

Julia Rodgers
Julie Rogers

LINDSAY SCHROEDER
Lindsey Shrader

Pete Cellars
Peter Sellers
Petr R. Selars

tracy vasquez
Tracie Vasqes

Kenny Vonn Jr.
KENNETH VAUGHN